For some time now, analytics has been a hot topic within the HR world. Everyone talks about it, but what does analytics really mean, and how does it tie-in to the actual planning processes your organisation undertakes every day?
At its core, analytics is about the ability to take data, apply insight, and turn it into actionable information. It's not just throwing data over the wall, it's translating raw data into something that can be used. And it's clear that organisations are hungry for analytical data to drive their workforce planning processes.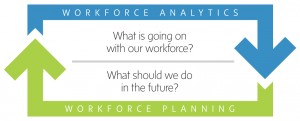 Early findings from Aberdeen's latest survey on Core HR and Workforce Management shows that after controlling labour spend, the need to improve workforce planning is the number one driver of their total workforce management efforts. Despite this need, however, about a third of organisations still described their workforce planning process as merely an exercise in headcount planning.
In order to truly create responsive, effective operational workforce plans, organisations need to take into account not just headcount needs, but the skills and capabilities required by these workers and an understanding of the associated labor costs and financial performance of these workers.
So what should organisations do to strengthen the links between analytics and planning? First of all, organisations need to link their data sources. The same early findings data cited above also found that only about half of organisations integrate workforce data with financial data. Without this linkage, organisations operate in the dark when it comes to understanding the impact their workforce has on their financial performance. And they will not be able to quantify the financial impact of workforce performance.
Aberdeen's previous research on HR analytics found that Best-in-Class organisations were more than twice as likely to provide workforce data dashboards to executives and line-of-business leaders. This is the essential second step that turns data into analytics – putting information into a format that the people who need it can use. It's not enough to simply say to a business leader "here's the data." It's important to provide them context and an easily digestible way to incorporate analytics into their ongoing decision-making.
Perhaps most telling, the new survey has found that about half of respondents so far say labour budgets are set annually based on headcount, while the other half say they are updated more frequently based on business performance data.
As our analysis of this data concludes, it will be interesting to see how business performance is impacted by this ability to be more dynamic with labour budgeting. This kind of integration not only helps organisations create their workforce plans, but it monitors and improves them as marketplace realities unfold – the ultimate goal for linking analytics and planning.